Dust Free hardwood Floor Refinishing
Floor Refinishing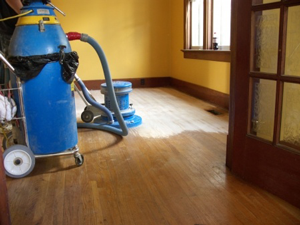 Whether your wood floor is only a few years old or 100 years old, City Flooring can help you restore it to all its natural splendor.  Being the wood floor experts, City Flooring will work with you to match the best floor refinishing technique and finish to how you live with your floor.
Your sanding and refinishing options include:
Full sanding or buff and coat
BonaKemi Dust Containment System
Custom staining
Patching and repair
Sanding
A wood floor that has been used will ultimately, over time, have nicks, scratches, and dents.  Although this adds to the character of your wood floor, many times owners want to bring their floor back to its former glory.  The only way this can be accomplished is by a full sanding and refinishing of your wood floor.
A full sanding of your wood floor provides you with the options of removing scratches and dents, repairs and patching, changing of color, changing of finishes, and restoring.  Talk to the experts at City Flooring to discover the best option for your wood floor.
City Flooring offers a near dustless refinishing option for your hardwood floor with our BoniKemi Dust Containment System.
If a board or small section of your floor is damaged, it can be repaired or replaced without replacing the entire surface.  Talk to the experts at City Flooring for the best repairing option for your wood floor.
Buff and Coat
Many times a full sanding and refinishing may not be necessary.  If your wood floor is only a little dull, it may only need a quick buff and coat to bring your wood floor back to life.  By performing a quick buff and coat, you can extend the life of your wood floor and the time between a full sanding and refinishing.
At City Flooring we make certain that each wood floor is refinished following strict industry standards so it provides a beautiful, long lasting floor for the homeowner.
City Flooring handles the refinishing of hardwood floors throughout the home.
City Flooring offers Bona GREENGUARD
The Bona System is the First and Only GREENGUARD-certified System in Industry.
Refinishing with GREENGUARD-tested products from the Bona Environmental Choice System™ is certified for indoor air quality. From effective dust containment to low-VOC, high-performance waterborne finishes without harmful fumes, to non-toxic floor care products and systems, the Bona system offers the cleanest and healthiest hardwood floor finishing system available.
The GREENGUARD Environmental Institute is an industry-independent, non-profit organization that establishes standards and testing for indoor products. Their goal is to improve public health by helping manufacturers build safer products. These products will not pollute the air with harmful levels of dangerous chemicals or particulates.
Bona Hardwood and Hard Surface Floor Cleaners and systems have also passed the more stringent GREENGUARD Children and Schools Program indoor air quality criteria.