With a wide selection of laminate floors to choose from, you can have the look and feel of real wood or stone for less. Let the design consultants at City Flooring help you choose the perfect laminate flooring for your home.
Most people are hard-pressed to tell the difference between quality laminate flooring and real wood or stone. Laminate floors also tend to be more durable than wood and stone flooring, and they come at a much lower price. They can even be installed in places where moisture is a problem, such as bathrooms or over concrete floors. An added benefit is that these floors do not require nails or glue for the installation, which means that you will save money on both materials and labor.
The layering technology used to manufacture laminate floors is what gives these products supreme durability and wear resistance. The bottom layer, or backing layer, provides a solid foundation with moisture resistance. The core layer, made from high-density fiberboard, provides structural stability, and it is treated with resin to further increase water resistance. On top of the core layer is the design layer, which features a lifelike image of wood or stone along with the texturing that gives the floor its realistic appearance. The final layer is a wear layer that guards against scratches, dings, gouges and fading.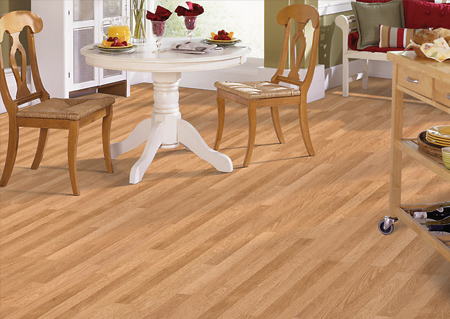 When it comes to style and color choices, laminate floors are second to none. Wood tones come in all the traditional colors, such as pine, oak or cherry. You can also give your living space a truly exotic look with foreign wood designs such as African Ironwood or Tanzanian Wenge. Stone laminates come in many different earth-tones. You can find nearly any shade of slate or limestone, along with muted sandy colors or rich terra cotta tones.
Laminate flooring also comes in all the same sizes as real wood and stone flooring. Planks are available in several widths, and stone styles come in many sizes and patterns. Laminate flooring products give you the opportunity to create a truly beautiful floor at an affordable price.